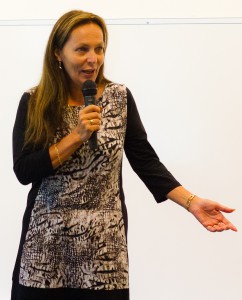 Småföretagarnas Favorit 2015 – i Solna och i Sundbyberg
Lena Törner, grundare av MacoMedia AB, MATRONA & PATRONA. Blev framröstad till Småföretagarnas vinnare 2015 i Solna och Sundbyberg och fick därmed utmärkelsen som Småföretagarnas Favorit 2015.
"Jag brinner  för  entreprenörskap, företagande och att göra bra saker den korta tid man är här på den här planeten" säger Lena Törner.
Hon är skolpsykologen som valde IT-branschen för att så småningom starta sitt eget utbildningsföretag, MacoMedia AB.  Hon har arbetat länge i en mansdominerad bransch och upptäckte även då att de flesta affärsnätverken dominerades av män.
Hon tog därför saken i egna händer och grundade 2009 MATRONA – ett kreativt affärsnätverk för kvinnor inom olika branscher och befattningar med en värdegrund av samhällsansvar till och för angelägna ändamål. Vi genomför då och då större insamlingar för att visa på hur näringslivet kan påverka värdegrunder och attityder i samhället.
När även männen började visa intresse för det sätt MATRONA bedrivs, grundades även nätverket, PATRONA för män.
MacoMedia AB
Från allra första starten år 1998 – fanns enbart datautbildningar på menyn. Numer erbjuds våra kunder även kurser i presentationsteknik, personligt bemötande, sälj och personlig effektivitet. Allt specialbeställs och komponeras utifrån våra kunders specifika önskemål.
Nyfiken på vårt utbud, besök gärna vår hemsida; www.macomedia.se
Seminarium
"Kvinnor måste våga mer och öka riskaptiten för att nå framgång" säger, Lena Törner.
Öka din riskaptit
Seminarier & Workshops
Boka få mer info; lena.torner@matronanatverken.se
Därutöver genomför Lena utbildningar i presentationsteknik för kvinnor, startar och bygger nätverk med rätt strategier för målgruppsanpassade företag samt föreläser om hur det är att vara egenföretagare.
Lena har även skrivit boken, Våga Vilja Företag – om snårigheter och möjligheter på vägen till egenföretagare tillvaron.
"Min absoluta övertygelse är att man kan göra allt man vill. The sky is the limit. Nu lever jag min dröm. Jag kör moppe bland molnen, avslutar Lena Törner.